Lost Vegas Pokies Review
The Lost Vegas pokie is a bit more original than some of the pokies that you have played in the past. This one is two games in one. Yes, one of them is better than the other, but throw them together and you will have an awesome time.
How to Play Lost Vegas Pokie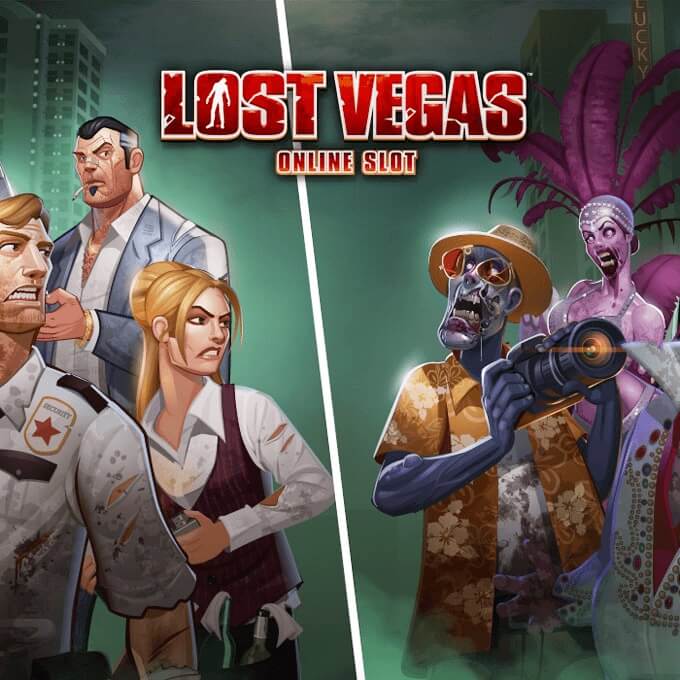 The Lost Vegas pokies is a popular online pokies designed by Microgaming. It was first released on the 5th October 2016. There are 5 reels and 243 paylines. This is two games in one, but we will discuss that in a short while. The house edge hovers between 4% and 5%. It is a medium volatility slot. The minimum bet is 30 cents. The maximum bet is $45.
This game is based around a zombie apocalypse. So, basically, Microgaming have designed a pokie based around something which is incredibly popular right now.
No idea why people seem to love the idea of being consumed by rabid zombies so much, but each to their own.
As we mentioned previously, this is two games rolled into one. You have a survivor version and a zombie version.
You can switch between them with a single click. Both are uniquely designed and both offer their own features. This is something that we love when it comes to slots.
We love things that have a touch of originality to them, so kudos to Microgaming. Overall, the game does look great. In fact, it looks amazing. You can tell that the team at Microgaming poured a lot of love into this pokie.
Even though the pokie is 'two in one', it is still simple to play. You select the mode you want to play in, which you can change before every spin. You then set the amount that you want to bet, and then you are done. The wins then start to roll in.
For reference; if you want to make the most money in this game, then you will probably find that playing in zombie mode will be more lucrative for you. By all means, switch them up, but our biggest wins came from the zombie mode.
Bonus Rounds & In Game Features
The wild symbol is the same for both versions of the game. As with every other pokie out there, the wild symbol acts as a replacement for every other symbol. Nothing majorly special, but can be lucrative if you are lucky enough to get a couple of them at once.
You need at least three bonus symbols in the game to trigger the free spins mode. This does differ based on the version of the pokie you are playing:
Survivor Free Spins: Any time you get a low paying symbol on the reels (A-10), you will get a cash prize. These are then removed from the reels. You will get free spins until none of these symbols are left. This is a good feature as over time, the higher paying symbols are left on the reels and the others will disappear.
Zombie Free Spins: every time a zombie symbol hits the reels (it will be stacked), and the whole reel turns wild. There will be free spins until all of the reels are what is known as 'infected'
At any time during the spins, a zombie can punch the screen giving you a cash reward. Does not happen often, but it is nice when it does occur.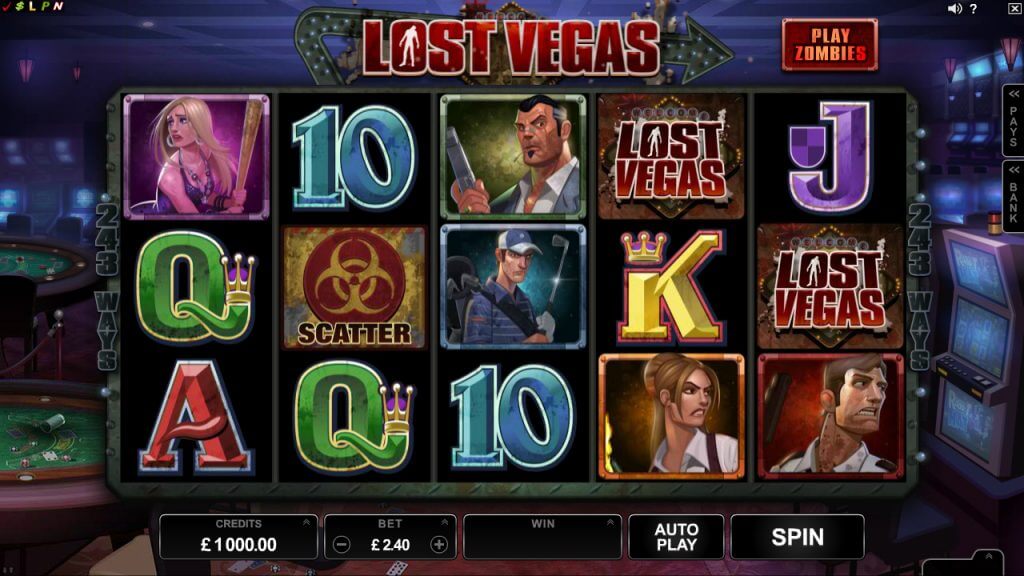 Lost Vegas Mobile Pokie
The Lost Vegas mobile pokies is great. Sure, the game does lose a little bit of its edge when it is shrunk down to the smaller screen, but it is still fun for us to play.
The game does look decent, and it is does play very smoothly. Basically, we very much recommend that you give the Lost Vegas pokie a spin. We are positive you will enjoy it.
Summary – What Do We Think?
We love the way that Microgaming have created two machines in one here. It keeps things interesting. It is nice that the bonuses for each game mode are very lucrative too. We recommend this game to everybody.
If you want to check out the Lost Vegas pokies, and we know that you are itching to do so, then you can head to any online casino which offers Microgaming games. We know that they are not tricky to find. However, we do know that there are a lot of terrible sites out there.
We want you to only play at the best new pokies sites of course! This is why our team have put together a guide to some of the best online casinos around. Make sure you check it out!
Where To Play Online Pokies in Australia - Recommended Casinos