The Invisible Man Pokies Review (Netent)
Based on the 1933 film of the same name, the Invisible Man pokie from NetEnt is probably one of the most aesthetically pleasing pokies that we have played. It really helps that there are a ton of features to sink your teeth into too!
How to Play The Invisible Man Pokie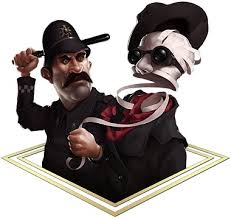 There are 5 reels and 20 paylines on The Invisible Man pokie. To get started, you will need to plump up 20 cents at a minimum. The maximum amount you can bet is $100.
This game is based off of the Universal Studios movie which, in turn, is based upon the H.G. Wells' novel. For those who have never seen the movie, it is about a man that is able to turn invisible. Think the classic 'mad scientist' type of thing and you get the picture.
One of the things that we were really in awe about with this game is the fact that NetEnt have gone to massive lengths to try to recreate the sounds of the movie. It is very authentic.
This is something that we genuinely love. In our opinion, there are far too many pokies out there nowadays which take a theme and don't really do much with it. We loathe those pokies.
As this is a NetEnt machine, you can expect that it is going to be easy to play. There are a few features in this pokie which you can sink your teeth into, but none of them are overly complicated.
In fact, we feel as though this pokie is going to be brilliant for somebody who is new to the world of pokies. The features that you find in Invisible Man are going to be features that you will find in other machines. More complicated machines.
Bonus Rounds & In Game Features
The Invisible Man is a unique pokie as far as the fact that it pays out both ways i.e. left to right and right to left. Sure; there are a few pokies which do this nowadays, but it is rare for NetEnt to offer a feature like that. We must say, we certainly love NetEnt for incorporating this feature into the game!
Wild Re-Spins is the feature that you will probably be encountering the most. If you get a wild on the reels, then you will get a free re-spin. The wild will then move. Again, The Invisible Man is unique here because there are actually two different types of wild that can appear.
They move in different ways. The Police Wild can only appear on reel one. It then moves to the right. The Griffin Wild can only appear on the 5th reel. It moves to the left. If these two symbols merge together, you will be trigger your free spins.
During your free spins mode, you will get 10 free spins. There is the potential to trigger more, however. If this happens, you will be walking away with a cool 30 spins. If you get wilds, then you will notice that a little meter at the top of the screen fills up. If you completely fill this up, you will get a nice little bonus. The bonus will be dependent on the meter that you filled up.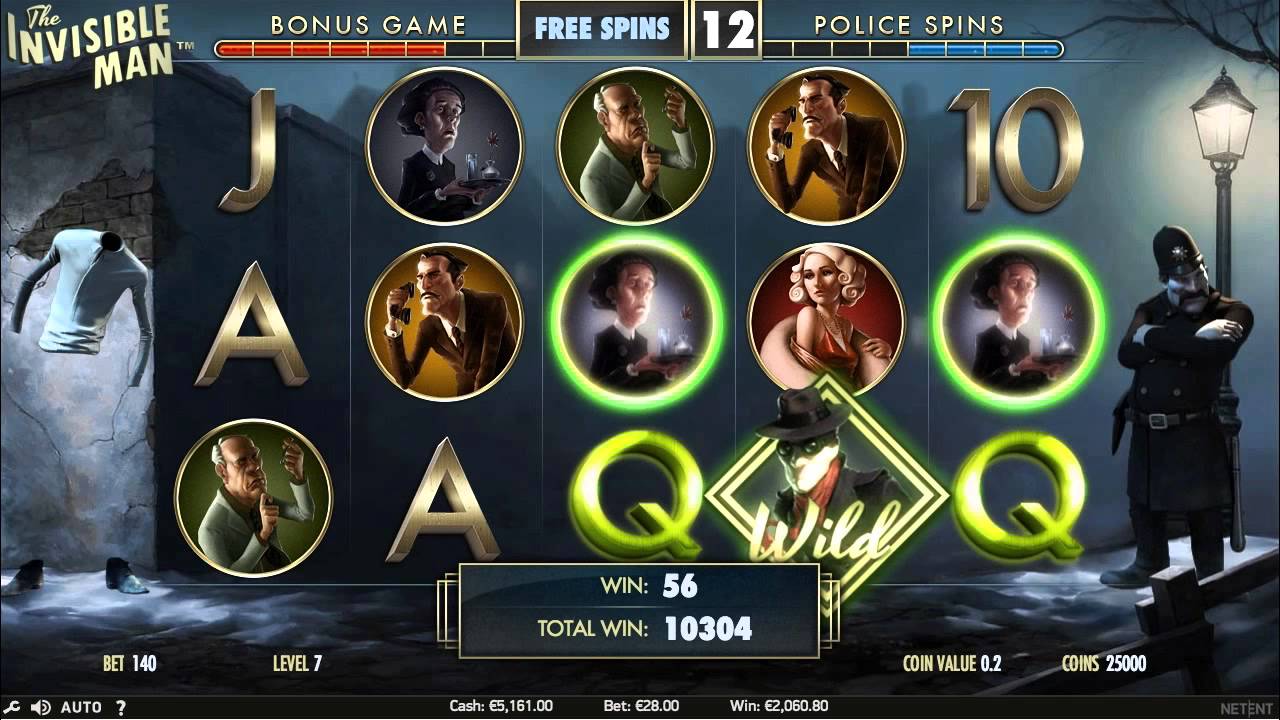 Invisible Man Mobile Pokie
NetEnt seem to have the magic touch when it comes to mobile pokies. It is clear that this is the case with the Invisible Man pokie. This game is absolutely sublime.
We were worried that the detailed graphics would look a little bit 'off' on mobile devices. We have seen far too many decent pokies out there which have great graphics, but when you shrink them down, they look abysmal. Thankfully, that is not the case with the Invisible Man pokie.
Summary – What Do We Think?
While this game is unique with its wilds, we feel that even the newest person to the world of pokies should have some inkling about what is going on. Quite honestly; this is one of the better pokies that we have played this year. We are sure you will love it too.
You can play The Invisible Man pokie on any NetEnt casino. Since there are well over one hundred, we know that finding a quality one in Australia can be quite a hassle.
If you want to check out a few of our suggestions (and we really recommend that you do!), then feel free! We put a ton of effort into curating this list so you don't have to!
Recommended Australian Casinos For Online Pokies